Be Prepared for Your
Colonoscopy Appointment
Please read through the following instructions if you will be scheduling a colonoscopy at Parkway Surgery Center. 
Three Days Prior to Procedure:
Please avoid eating seeds, nuts, vegetables and fruits with skin like apple skins, potato skins, peppers, onions, tomatoes, lettuce, corn, peas or beans, oatmeal, rice, whole grain bread, and popcorn.
You may have any meats, poultry or fish, eggs, dairy, pasta, bananas, melons, apple sauce, avocados, potatoes without the skin, squash without the skin or seeds, white breads, crackers without seeds, and plain potato chips.
The Day Before The Procedure:
Please only have a clear liquid diet with no solid food the full day prior to your procedure beginning first thing in the morning. Any food that you can see through that is liquid, and is NOT red or purple, is okay. PLEASE NO BROTH OR BOUILLON. Avoid dairy products and juices with pulp. It is extremely important to drink lots of clear liquids the day before your procedure. You may drink clear liquids up until 2 hours before your scheduled time.
Below is a list of foods that ARE okay to have:
Apple juice
Popsicles
Orange juice (without pulp)
Gatorade
Soda (Pop) including Coke, Pepsi, Dr. Pepper, etc.
Herbal tea
Coffee without creamer
Hard candies
Jello without fruit or topping
PLEASE NO BROTH OR BOUILLON
*This is for GoLytely prep, if you have been prescribed a different prep by your doctor please follow those instructions.
1. Prepare your Golytely Prep in the morning in a gallon of water and refrigerate for best taste. If you have the packet of Golytely, pour it into a gallon jug with a funnel and add water to make a gallon. You can add Crystal Lite to the gallon for flavor (any flavor except red flavors, lemonade seems to be the favorite). The packet may tell you not to add the flavoring, but it is okay.
2. Begin drinking ¾ of the gallon (3 quarts) at 4 pm the night before your procedure, finishing by 8 pm. You may drink other fluids while drinking the 3 quarts to help with the taste.
3. 6 hours before your procedure time, drink the last quart. For example, if your procedure is scheduled at 7 am, set your alarm to get up at 1 am and drink the last quart. This will give you the best results and the clearest prep.
It is important to DRINK THE ENTIRE GALLON OF PREP, even after your bowel movements are clear. If you do not finish the prep, your appointment may need to be rescheduled.
At Parkway Surgery Center, we offer Open Access screenings for a colonoscopy. If you qualify, this means that you will only have one appointment with the general surgeon for your colonoscopy - the actual procedure. As long as the colonoscopy is clear, with no complications, no other appointments are necessary.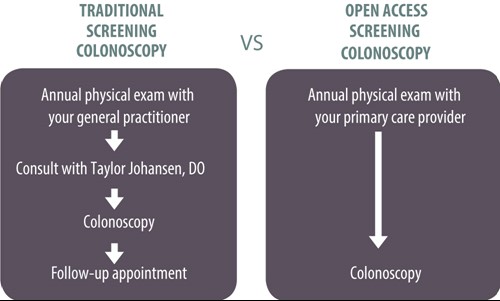 Benefits of Parkway's Open Access Screening Colonoscopy:
Saves time and money
Procedure performed by Blackfoot's finest general surgeon, Dr. Taylor Johansen
Covered by most insurance companies under wellness benefits (please check with your insurance to see if it covers a screening colonoscopy)
Want to learn more about Open Access?
If you have any questions, please call us at 208-785-5100.
After Parkway has received all the required information from your family doctor, you will receive a call from their receptionist to schedule an appointment for the procedure. Please make sure after your appointment has been scheduled that you pick up your bowel prep at the clinic that referred you to Parkway.
A nurse from Parkway Surgery Center will be calling you about a week before your procedure to discuss the prep instructions and also get a health history from you. If you have not received a call from us, please call at 208.785.5100. If there is no answer, please leave a message with your full name and a good phone number at which we may reach you. After hour calls will be returned on the following business day.
Please also understand that if you are having any of the following you do not qualify for the open access program and will need to be referred to Dr. Johansen prior to the procedure:
1. Change in bowel habits
2. Diarrhea
3. Constipation
4. Bleeding from the rectum
6. Unexplained weight loss